FKA is one of the sponsors of the 20th edition of the "Grasz o staż" competition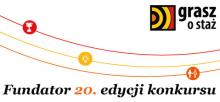 "Grasz o staż" ("Win the internship") is a nationwide competition organised by PwC and "Gazeta Wyborcza" daily newspaper.
Every year, it allows employers to meet outstanding students and university graduates. 
For the fifth time, FKA law firm has sponsored an internship in the field of law for finalists of the contest. Students in their 5th year of studies and law graduates are welcome to participate in the competition.
In the first place the people who solve the task "drawing up a structure of an M&A transaction" will have the chance to win an internship at our law firm.
Download the task HERE
Schedule of the 20th edition
23.02.2015 – start of the competition – publication of tasks for participants
by 13.04.2015 – deadline for participants to submit their applications to the competition
05-06.2015 – recruitment interviews with candidates
25.06.2015 – Closing Gala of the 20th edition of the "Grasz o staż" competition
July – September 2015 – internships for winners
More informartion: www.grasz.pl.